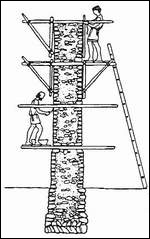 The Roman Pantheon includes information on ancient construction technology
The Roman Pantheon:
The Triumph of Concrete

David Moore, PE

Seven Chapters, 239 pages
Over 115 figures, 7 in color

8.5" x 11.0" x 5/8"
Finger/Comb bound (to lay flat)
or solid bound. Clear plastic
cover sheet with solid plastic back.

$25 each book plus shipping
I am making my manuscript available to those in the scientific community who are interested in Roman concrete, Roman engineering, Roman construction practices or ancient concrete. While traditional publishers have not been interested in the work, I argue there is something for everone: the configuration of the Pantheon including its cracks, pictures of Roman tools, the workers who built Rome including its architects, ancient construction practices, complete analysis of Roman concrete correlated to features of modern concrete, and seven color pictures to support the text. See the Table of Contents below for more details. Click here for an overview of the book.
I am providing this book in its current form without profit; it will be distributed through this web site only for the cost of reproduction and postage ($25 plus shipping). If you want a copy, fill out our secure order form, send an email to sales@romanconcrete.com, or call Office Outlet in Pinedale, Wyoming, USA at 1-307-367-6763. This limited, custom printing is intended to expand the individual's research in the subject, at only the cost of materials and shipping. Your satisfaction is 100% guaranteed, if you are not satisfied for any reason, return the book via regular US Mail and you will be reimbursed for your costs plus the return postage.
It is a window showing Roman construction in all its glory and detail. Later, I will consider printing it by chapters if there is a need. What do I receive from this?..the pleasure of passing on my work to those who will enjoy it.
The book is also available at the British Museum, Oxford University, University of Kent (UK), and the University of Guam. See the resources page for more details and an annotated bibliography of all the references cited in the book.
TABLE OF CONTENTS
Chapter I THE PANTHEON
General
Configuration
Pantheon Sections
Foundation
Wall
Dome
Structural Evaluation
Chapter II HISTORY AND PEOPLE
Discovery of Concrete
Modern Concrete
Ancient Roman Concrete
The Roman Architect
Elementary Education
Professional Training
Architectural Design
The Roman Surveyor
The Legion Engineers
Chapter III LIME AND KILNS
Antiquity
Chemistry of Lime
Building Stone of Rome
Burning Practices
Slaking of Quicklime
Lime Kilns
Function of the Kilns
Chapter IV CLAY PRODUCTS AND MORTAR
Ancient History of Brick
Description of Roman Brick
Building Practices
Clay Deposits
Classification of Clay
Brick and Pozzolan
Influence of Heat
Ancient Mortar
Chapter V IDENTIFYING THE ROMAN CONCRETE
Background
Location of Pozzolan Deposits
Ancient Authors
Cato the Censor
Vitruvius
Sand
Lime
Pozzolan
Walls
Foundations
Harbor Works
Floors
Cisterns
Pliny the Elder
Walls
Floors
Cisterns
Compacted Earth
Pozzolan
Sand
Lime
Statius
Emperor Julian
Modern Viewpoints
Aqua Virgo Aqueduct
Anio Vetus Aqueduct
Aqua Marcia Aqueduct
Aqua Claudia Aqueduct
Aqua Alexandrina Aqueduct
Caesarea Aqueduct
Chapter VI POZZOLAN-LIME BEHAVIOR
Concrete Composition
Pozzolan Materials
Chemistry of Concrete
Silica
Atomic Linkage
Crystalline Silica
Amorphous Silica
Chemical Behavior
Chemical Terms
A Criteria for Reaction
Chemistry of Reaction
Bonding Gel
Surface Area
Compaction
Water Voids
Pozzolan-Lime Reaction
Activity Evaluation
Chemical Analysis
Optical Studies
Solubility Testing
Lime Absorption
Strength Testing
Chapter VII ANCIENT CONSTRUCTION TECHNOLOGY
Structures of Rome
Roman Contractors
Labor Force
Metallurgy
Material Procurement
Construction Tools and Equipment
Striking Tools
Cutting and Piercing Tools
Lifting Devices
Fasteners
Scaffolding
Ancient Mortar
Ancient References
Modern Viewpoints
Criteria of the Mixture
Quality of Lime
Consistency of the Mortar
Measuring and Mixing
Compaction
Forms
Vapor Seal
Foundations
Stone and Concrete Walls
Trusses and Vaults
Other Practices
References
---
For questions or comments about Roman concrete or similar topics, contact David Moore's son John Moore at:


See the About section for more information about David Moore and this web site.
For web suggestions or defects in this web site, contact


---