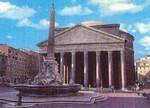 The Roman Pantheon is the largest (43.4m dia.) unreinforced solid concrete dome in the world. It was built by the emperor Hadrian almost 2,000 years ago.
This site is dedicated to understanding the beauty and longevity of construction by the Romans, especially their use of pozzolan based concrete, also known as Roman concrete. Much of the material on this site and the companion site www.battleofsaipan.com was written by the late David Moore, P.E., the author of the book The Roman Pantheon: The Triumph of Concrete.
Describes the reasons why Roman concrete caught the interest of the author and its special characteristics that are still being studied today. Includes a chapter from The Roman Pantheon and an article from the US Bureau of Reclamation newsletter The Spillway describing the similarities between Roman concrete and modern roller-compacted concrete.
Contains photos of Roman concrete construction, including the Pantheon, Pompeii, and the Coliseum.
Contains an article on one of the greatest and most complex concrete structures - the Hoover dam on the Colorado River. and alternative concrete construction using bamboo reinforcing instead of steel.
Provides answers to questions recieved over the years regarding Roman concrete, alternative concrete construction, and Roman construction.
Contains an annotated bibliography of references from The Roman Pantheon: The Triumph of Concrete. Includes web resources, video resources, libraries with a copy of the book, and university researchers who are interested in Roman concrete. A good place to start if you are researching ancient concrete.
Order a copy of The Roman Pantheon: The Triumph of Concrete by David Moore, P.E., on-line or by phone.
Provides background information on David Moore and information on the companion web site, www.battleofsaipan.com which is dedicated to preserving the history of those who served in WWII and providng useful information to vetrans who are getting on in years.
Whats New
Aug 2015 - Web site updated
Jan 2004 - Photos added of the Pantheon, Pompeii, and Coliseum
---

---
For questions or comments about Roman concrete or similar topics, contact David Moore's son John Moore at:


See the About section for more information about David Moore and this web site.
For web suggestions or defects in this web site, contact


---